Free U.S. standard shipping on orders of $50+
Everything You Need to Know About Plus Size Swimwear for 2022
Getting ready to hit the beach? Keep reading for everything you need to know about the perfect plus-size swimwear so that you can spend the summer in style!
What Swimsuit Is Best For Plus Size?
Finding a flattering plus size cut from the ranges of women's swimwear available is no longer the challenge it used to be, as manufacturers and retailers have wised up to the fact that bodies come in a variety of beautiful shapes and sizes. Our options also aren't limited to the classic two-piece swimsuit or bikini anymore, either - now there are fabulous collections of swim skirts, dresses, skorts, and leggings available, making finding the perfect plus size beachwear a breeze!

Let's start with plus-size bottoms. Swim skirts tend to look very flattering on a fuller figure and come in a range of lengths, so you can choose the cut that you feel most comfortable wearing. Women's plus-size swim shorts are also a great option: again, they come in various lengths or go for a boardwalk shorts style for a fresh and funky summer look.

Other plus-size bottoms that look and feel fantastic are leggings or skorts; the latter is a swim skirt that features integrated (sometimes hidden) shorts for even greater versatility. Plus size high-waisted swim bottoms are also a great choice: this cut works to create a balanced silhouette while flattering curves.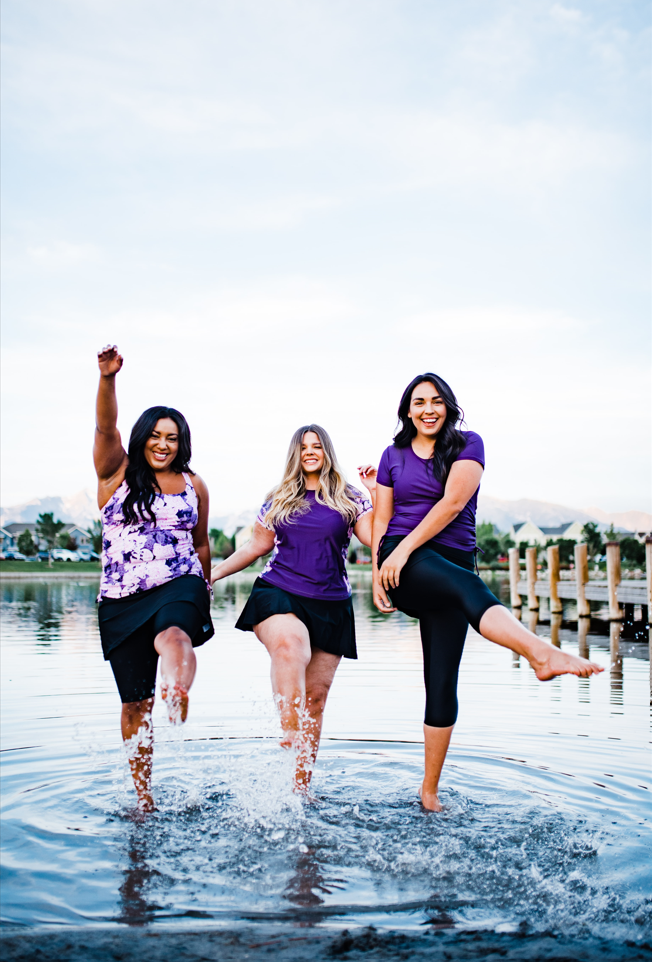 Which Swim Top To Choose?
Wondering what to pair plus-size bottoms with? Try a racerback-style tankini, a short-sleeved swim top, or a tunic, either in a color that matches the bottom half or in a bright and bold design - go for whatever fits your personal style preference best! Alternatively, opt for one of the plus-size swim shorts sets now available for easy and in-sync styling.

If you'd prefer some extra support up top, then consider a swim bra; many styles can be worn either under a swim top or worn alone with swim bottoms for a simple, cute look. You could also look for a swim top that incorporates bust support for extra comfort.
What To Look For When Choosing Plus Size Swimwear
The focus should stay on finding the swimwear that not only makes you look your best but feel your best, too. You may need to experiment with a few designs and cuts to discover the style that's perfect for you.

In general, when it comes to swim skirts, leggings, and shorts, look for a high-waisted cut that, ideally, sits just below your natural waist for the most flattering fit. A wide waistband is also a good feature to look for to slim the silhouette.

When choosing swimwear, it's also a great idea to opt for fabrics that incorporate sun protection, of factor fifty plus, to keep your skin safe while you're cooling off in the pool. If possible, select quick-drying swimwear, too, for both extra convenience and comfort, and look for a guarantee, too, to best ensure high-quality.
Comfort And Style
Today's gorgeous ranges of plus-size swimwear are versatile, allowing you to easily go from the beach to the bar or to hit the shops after spending time with friends poolside. The variety of colors, patterns, cuts, and designs mean, too, that there's a style to suit every preference and personality.

Whether you opt for a swim skirt and a tankini, a swim dress, or go for a ladies plus-sized swim shorts set, the choices above offer both comfort and style, so you can just concentrate on looking great and enjoying your vacation or afternoon at the pool!